Problem H: Fibonacci Sets
Fibonacci number f(i) appear in a variety of puzzles in nature and math, including packing problems, family trees or Pythagorean triangles. They obey the rule f(i) = f(i - 1) + f(i - 2), where we set f(0) = 1 = f(-1).
Let V and d be two certain positive integers and be N ≡ 1001 a constant. Consider a set of V nodes, each node i having a Fibonacci label F[i] = (f(i) mod N) assigned for i = 1,..., V ≤ N. If |F(i) - F(j)| < d, then the nodes i and j are connected.
Given V and d, how many connected subsets of nodes will you obtain?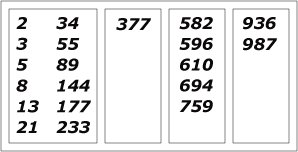 Figure 1: There are 4 connected subsets for V = 20 and d = 100.
Input
Each data set is defined as one line with two integers as follows:
Line 1: Number of nodes V and the distance d.
Input includes several data sets (i.e., several lines). The number of dat sets is less than or equal to 50.
Constraints
Output
Output line contains one integer - the number of connected subsets - for each input line.
Sample Input

5 5
50 1
13 13

Output for the Sample Input

2
50
8

---